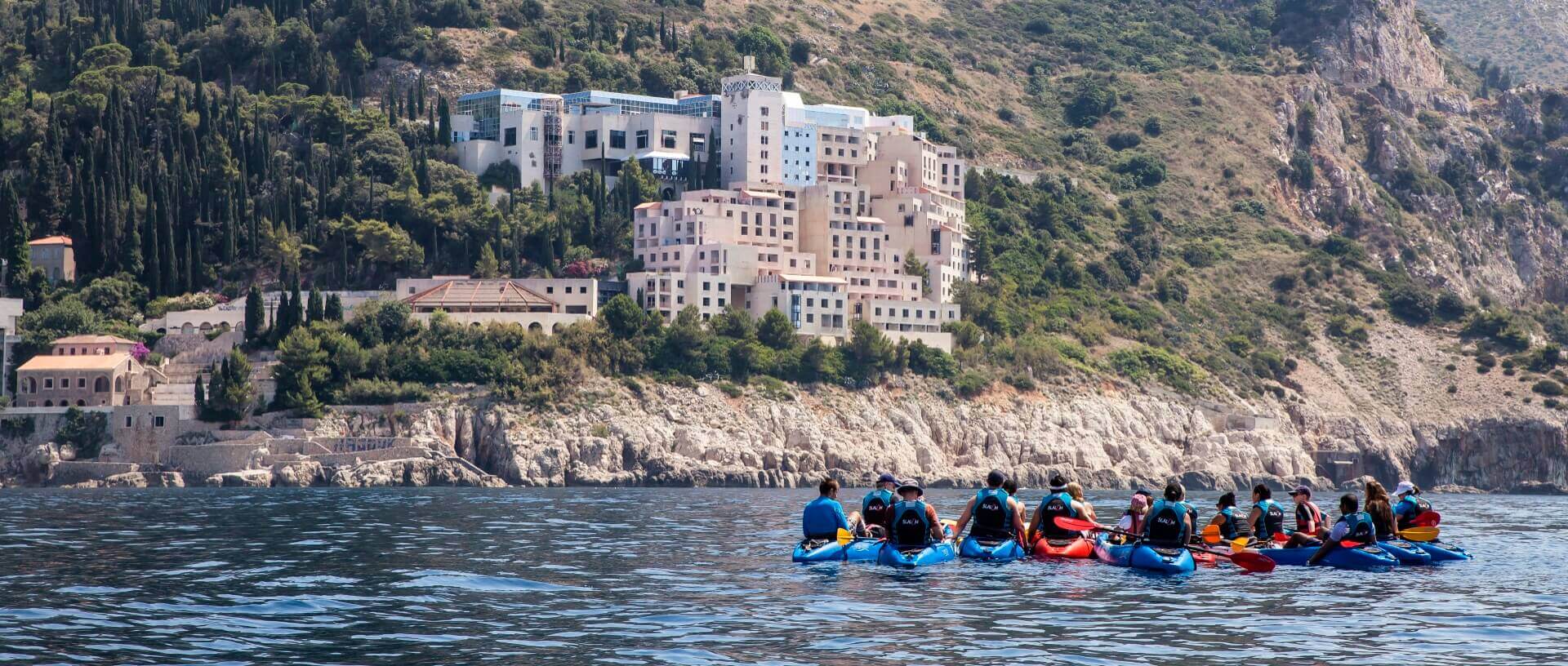 Game of Thrones Tour
Duration: 5.00h
Difficulty: Easy
Child friendly
Sign in: Monday – Sunday | 10:00 AM
for children (6-12)
325.00 HRK
308.75 HRK
(41.64 €)
---


Game of Thrones Tour
Duration: 5.00h
Difficulty: Easy
Child friendly
Sign in: Monday – Sunday | 10:00 AM
for children (6-12)
325.00 HRK
308.75 HRK
(41.64 €)
---
Limited time offer - save 5%
About The Tour
Your five hour-long Dubrovnik kayak adventure will take you to the world of Game of Thrones, but also see beautiful Lokrum Island. Tour starts beneath the ancient fort Lovrjenac; the location that is well known as Red Keep Gate in GOT, in the small port called Pile (also used in the serial), underneath the restaurant Orhan.

After a quick introduction to the route of this thematic kayak tours in Dubrovnik, safety as signs that we use tour guide you will be ready to enter the fantastic world of Game of Thrones. Cersei, Jamie Lannister, Khaleesi together with our tour guide will evoke the GOT filming in Dubrovnik.

Stories about the famous scenes, together with the picturesque scenarios will take you to the GOT world, and you will have a feeling like you've been on the set while filming all these famous scenes…At this thematic tour that we like to call a "special one" you will also visit the island of Lokrum (ticket included in the price of the kayak tour), and see places from GOT. On the island, you can also go to hiking with your guide who will explain you everything about filming on those locations.

In the "Visitor Center," you can take a photo on the replica of the "Iron Throne". Lokrum is not only famous because of Game Of Thrones. From 1976 on, it is a protected area and listed as a "Special reserve of forest vegetation".

The medieval Benedictine monastery, the Fort Royal, the botanical garden, and seawater lake, called Dead sea, the peacocks, together with the mysterious legends about Lokrum, could be your best time on vacations in Dubrovnik. After having up to 2 hours on the Lokrum island, our Dubrovnik kayak adventure is coming to an end. We are paddling back and enjoying some more stories saved for the end of unforgettable Dubrovnik kayak tour.
Game of Thrones Tour
650.00 HRK
617.50 HRK
(approx. 83.28 €)
Tour Meeting Point
When you come to the Pile Square, the last bus station you are going tosee a big mirror monument. Behind it there is a street leading to the sea. When you come down, my desk is just beneath the restaurant Orhan.

Tour Information
Included in the price
All the equipment
Drybag for the personal items
Water
Sandwich
Snorkeling gear
English speaking guide
Insurance
---
Not included in price
---
What to bring
Swimming suit
Hat
Towel
Sunglasses
---
Age limits for participants
Children under the age of 18 need a signed approval from the parent
No maximum age limit
---
Number of participants
Minimum participants: 4
Maximum participants: 30
---
Cancellation
24h prior to departure time
Game of Thrones Tour
650.00 HRK
617.50 HRK
(approx. 83.28 €)
Need Help?
We provide Professional qualified guides. Quality kayaking and safety equipment. If you have any question's just send us an email or simply call us!


This website is part of Croatia Holidays Ltd. group and offers island tours around Dubrovnik.
TVRTKA
Croatia Holidays d.o.o. putnička agencija
Croatia Holidays d.o.o. za turizam i usluge, turistička agencija
MBS: 090031594
OIB: 36948406604
Nadležni sud: Trgovački sud u Dubrovniku
Share capital (Temeljni kapital): 20.000,00 Kuna (uplaćen u cijelosti)
SJEDIŠTE/ADRESA
TIBOR MLADINIĆ, OIB: 30373736574
Dubrovnik, ORAŠKA 11
– jedini član d.o.o.
PAY SECURELY ON OUR SITE:

OSNIVAČI/ČLANOVI DRUŠTVA
TIBOR MLADINIĆ, OIB: 30373736574
Dubrovnik, ORAŠKA 11
– jedini član d.o.o.
POWERED BY: